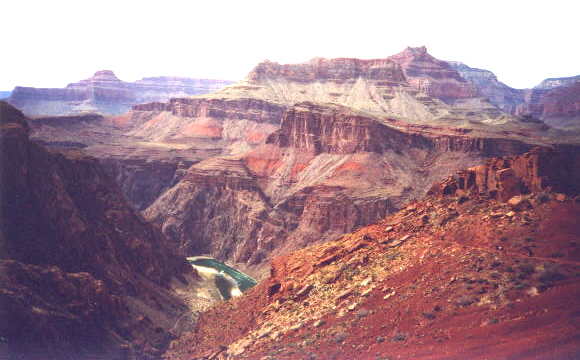 Geology Links



Geology Links
Unites States Geological Survey (USGS): The premier web site for anything to do with geology!
USGS Earthquake Hazards: Think you felt the "big one?" Go here to find out.
Christchurch Earthquake: Fantastic images of the earthquake damage from the 7.0 Magnitude Christchurch, New Zealand Earthquake on 9/3/2010
USGS Volcano Hazards: Go here. Madame Pele will thank you!
Volcanic Eruption Prediction: Go here for an in-depth look at how the 1980 volcanic eruption of Mt. St. Helens was predicted.
Volcano World: A comprehensive list of volcano activity around the world.
How Volcanoes Work: A very thorough website from SDSU concerning everything to do with volcanoes.
USGS Photo Glossary of Volcanic Terms: There are lots of words associated with volcanoes. Go here for their definitions with pictures!
Volcano Data Center: A list of websites to find out more about volcanoes.
National Geographic Forces of Nature: Go here to see more about the wrath of earthquakes, volcanoes, hurricanes, and tornadoes on humans.
Volcanic Ash: Go to this website to see more about how volcanic ash is both helpful and harmful to humanity.
Volcano and Geologic Resources: Nice list of volcano and geology resources suggested by Corrine Able of Online College Classes site.
TopoZone: Want to see where you live? Taking a hiking trip soon? Go here to find topographic maps for your destination.
Earthquake Hazards Program, Southern California: Go here for the local office of the USGS here in Pasadena.
Finding Fault: Go here to see actual pictures of earthquake producing faults.
This Dynamic Planet: Go here for an interactive online GIS map of the Dynamic Planet map used in class. Click on the map to launch the GIS.
Geology.com: Go here for plenty of resources in the wonderful world of geology.
Virtual Field Trip: This is a nice site detailing Southern California Geology from Cal State Long Beach.
Science of Sand: This is a remarkable site that shows sand samples for many beaches.
Geologic Time
Geologic Timeline Animation: Go here for a really cool geologic timeline animation!
UC Berkeley Museum of Paleontology: Go here for information about paleontology and evolution
Tour of Geologic Time: Go here for detailed information about geologic time.
Geologic Timescale: An interactive geologic time scale.
Chemistry
The Periodic Table of Videos: Go here to see videos about all of the elements!
Chemical Elements.com: Go here to see what minerals are made of!
Periodic Table of Elements: Go here for an interactive periodic table.
Mokeur's Periodic Table: Another interactive periodic table.
Chemicool Periodic Table: Another interactive periodic table by MIT
WebElements Periodic Table: Now do you see how important chemistry is when studying rocks and minerals???

Minerals and Rocks
Mineral Identification
Mineral Identification Chart: Helpful for the Mineral ID Lab
Mineral Identification Key: This is another great chart for mineral identification
Excel Mineral Identification Chart: Download an Excel Spreadsheet to help identify your minerals.
Mineral and Mineral Resource Information
Mineral Gallery: Plenty of help for researching minerals and gemstones
Mineral and Gemstone Kingdom: Lots of mineral information here.
Geology.com Mineral Uses: Great information on minerals and their uses.
Mineral Resources On-Line Spatial Data: Looking to make a map of your mineral resource or to download GIS files? This is the place to go!!!
Minerals on Google Earth: Go here to find where certain minerals are mined using Google Earth
Mineral Resources Program: Go to the main authority on all topics in geology, the US Geological Survey!
Mineral Statistics and Information: Go here for mineral statistics
Minerals Management Service: Federal Agency responsible for managing our precious resources.
Mindat Mineralogy Database: Plenty of information on mineral resources and locations.
Mineralogy 4 Kids: Good stuff on uses of minerals
Mineral Facts and FAQ's: Go here for frequently asked questions about minerals
Mineral Information Institute: How much of each type of mineral will a person living in the United States need in her/his lifetime?
Common Minerals and their Uses: What are different minerals used for?
Mineral Miners: Lots of Minerals Here!
Smithsonian Institution: Mineral Information from one of the leading museums in the U.S.
The Image Mineral Gallery: Plenty of help for researching minerals and gemstones
Webmineral Mineralogy Database: Tons of information here.
Webmineral A to Z Listing: An A to Z listing of minerals and gemstones
Bancroft Mineral Collection at UCSB: Go here to see some a really nice mineral collection!
Linus Pauling Institute at OSU: Go here for info about why you need minerals in your diet to maintain good health.
Minerals and Kids' Health: Eat good food rich in minerals!
Birthstones: Go here to find your birthstone!
Rocks and Minerals Links: Plenty of information here.
International Colored Gemstone Association
Mineralogical Society of Southern California: Really interested in minerals? Join this club!
Mineral Sciences Department/Museum at the Natural History Museum of LA County: Go see this great museum sometime!
Igneous Rocks Tour: This will be helpful with the Igneous Rock Lab
Sedimentary Rocks Tour: This will be helpful with the Sedimentary Rock Lab
Metamorphic Rocks Tour: This will be helpful with the Metamorphic Rock Lab
Volcanoes
Click on this site for interesting volcano myths
Click on this site for the latest eruptions around the world
Go here to learn about the types of volcanoes
Go here to look for information on world volcanoes
Click on this site for a volcano diagram


Earthquakes
Click here to learn about the different types of earthquake faults
For information about past California Earthquakes, go here.
To see real photos of earthquake faults, go here.
To learn about the San Andreas Fault, go here.
Go here for cool earthquake facts.
Where are the deepest earthquakes found? Go here to find out!
Go here to find out what Mark Twain says about earthquakes.
You will find the difference between Magnitude and Intensity here.
If you think that earthquakes don't happen in Santa Barbara, think again!
For the most recent earthquake activity in California, go here.
To learn about seismic waves, go here.
Here are some safety precautions for when an earthquake strikes.














<![if !supportLineBreakNewLine]>
<![endif]>